CQ, CQ, CQ, this is KILO-ROMEO-FOUR-ZULU-ALPHA-NOVEMBER calling for CQ!……………… CQ, CQ, CQ, this is KR4ZAN in Harlingen Texas, calling for CQ!…… CQ, CQ, CQ.
… and so begins the afternoon of a ham radio operator in the hopes of making a contact, also called a QSO, in order to make enough contacts to win an award, or to make new friends in far-away places unheard of by him before.
Thank you for finding my web page/blog.  My name is Richard and I started this site at the request of my students.  I am an early college teacher who also teaches a ham class after school.  In here, you will eventually find information on how to become a ham operator, and other good tidbits about the radio waves.
Visit all the pages, leave me a message, sign my guestbook, make yourself at home.  Please, make sure you leave comments on items you would like to see posted here. You may also scan the code to the right to view the website on your telephone. [pinterest]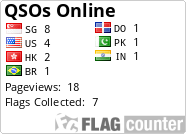 This is KR4ZAN, clear.